Finding a clinical trial can be a daunting task
Finding a clinical trial can be a daunting task
Navigating a sea of clinical research
By Mary Drake, Innovenn, Inc., President, CEO
Imagine this scenario: You are at the doctor's office, and have just been told the news you have autosomal dominant polycystic kidney disease (ADPKD), a rare disease that impacts less than 200,000 people in the United States.
While your doctor takes the time to explain the details of the disease and how your life will be impacted, many thoughts may be going through your mind: Why me? Will I survive this disease? What will the treatment side effects be?
Next, your doctor explains there is a clinical trial underway to investigate a potential treatment for ADPKD that might help you and others with this disease in the future. However, although your doctor knows of the trial, she is not a researcher in this trial, and is not familiar with how to enroll.
A physician's lack of knowledge about a clinical trial is a barrier to patients enrolling in a clinical trial, according to a 2010 report "A National Cancer Clinical Trials System for the 21st Century", which was produced by the Institute of Medicine (U.S.) Committee on Cancer Clinical Trials and the NCI Cooperative Group Program.
"Primary care and specialty physicians who are not affiliated with research institutions may be even less aware of patient eligibility for clinical trials. Because physicians are the primary conduit to patient entry into clinical trials, physician knowledge and endorsement of clinical trials are essential to enrolling patients in clinical trials," the report said.
If a patient or healthy person is willing to participate in a clinical trial without the help of a doctor there are still ways to get involved, but the volume of the information can seem overwhelming.
Here's the reality: there are more than 200,000 clinical trials registered on the United States National Institutes of Health (NIH) clinical trials website throughout the United States and 191 countries. Some trials are completed, some are still looking for patients and some have already started. With thousands of clinical trials to sort through organized by thousands of academics, researches, and companies on hundreds of diseases, how do you find a clinical trial to participate in?
Before we get to that, let's define just what a clinical trial is and how it fits into helping patients.
According to the NIH, clinical trials look at new ways to prevent, detect, or treat diseases. Treatments might be new drugs or new combinations of drugs, new surgical procedures or devices, or new ways to use existing treatments. The goal of clinical trials is to determine if a new test or treatment works and is safe. Clinical trials can also look at other aspects of care, such as improving the quality of life for people with chronic illnesses.
Clinical trials follow strict methods. All tests in a trial have controls and data from each trial is statistically analyzed.
The Power of Clinical Trials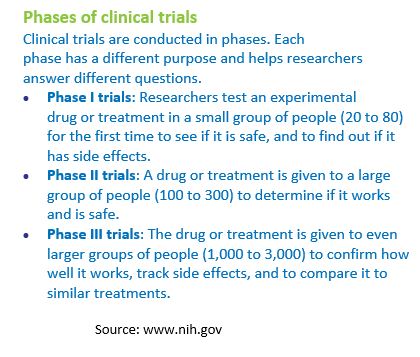 By participating in trials, you can be part of possibly changing your future health as well as that of others with your condition. Without human volunteers to participate in clinical trials, scientists won't be able to learn about safe and effective ways to prevent or slow disease or to find new or better treatments.
In my career, I have managed numerous clinical trials over 20-plus years in the pharmaceutical industry. I have played a part in the research for 14 marketed medications.
Finding a clinical trial
Now that you know what a trial is, let's look at how to find the right one. The NIH suggests three methods of finding clinical trials:
1) Searching the NIH clinical trials website, www.clinicaltrials.gov
2) Searching the NIH Clinical Research Studies online database on its website
3) Joining a national registry
Clinicaltrials.gov
The NIH, through its website, offers assistance to find clinical trials.
These steps include:
NIH Clinical Research Studies
The NIH maintains an online database of clinical research studies taking place at its Clinical Center, which is located on the NIH campus in Bethesda, Maryland. Studies are conducted by most of the institutes and centers that make up the NIH, according to its website.
Study Registries
ResearchMatch is an example of a study registry, which aims to give researchers access to lists of people willing to participate in clinical trials. ResearchMatch is led by the Vanderbilt Institute for Clinical & Translational Research, and involves a number of other not-for-profit organizations, according to its website.
When researchers need people for their trials, they work with places like ResearchMatch. The registry will contact those who have volunteered to be on the registry when a researcher wants to invite them to be part of the trial. This gives participants the option to participate without their identities being revealed. If a person agrees to be contacted, the researcher may talk to a possible participant about being a part of the study.
Clinical trials are not just for patients seeking treatment.
"Research needs healthy volunteers as well as those with medical conditions. All too often important research studies end early because there are too few research participants in the study. At the same time, people are looking for research studies but are having difficult time finding them," ResearchMatch's website states.
Matching Services
As technology and information sharing have advanced, the options for finding clinical trials have grown as well. One online method is a matching service.
Advocacy groups like the American Cancer Society offer matching services similar to registries for the diseases they support.
Matching services that are not specific to a disease are also emerging like Trial Reach. After answering a few specific questions, Trial Reach searches the internet for trials that match the criteria from the questionnaire.
Upcoming blog post: What it is like to be in a clinical trial
Helpful Links:
/wp-content/uploads/2017/01/innovenn-logo-madison-wi-1.png
0
0
Innovenn
/wp-content/uploads/2017/01/innovenn-logo-madison-wi-1.png
Innovenn
2016-02-18 16:31:33
2018-01-17 15:37:49
Finding a clinical trial can be a daunting task