Rare disease apps need a boost
Rare disease apps need a boost
Popular apps mostly informational or motivational
By Andrew Hellpap, corporate communications coordinator

Mobile health applications appear to be leaving rare disease patients with few options, according to Mary Drake, Innovenn chief executive officer.
With the demand for online health information, and a mobile means of accessing it, there is a market for providing better applications to those with rare diseases, she said.
Innovenn, founded in 2013, develops innovative diagnostic, prognostic, predictive, collaborative and preventive patient care solutions.
Through development of disease specific apps, databases, and analytics, Innovenn is focused on "letting no data go to waste" and transforming it into life-changing health improvements for patients with rare disease. "We can do more than just give nutrition and activity tracking," she said. "Apps should help patients know where they are and where they are going in the treatment of disease. We believe that every person has the right to access key actionable data that will help them make important health decisions."
For people with rare diseases, there are far fewer applications for iPhones or Android-based mobile devices than those with the most common diseases, according to a 2013 study by Borja Martinez-Perez of the University of Valladolid, Spain, published in the Journal of Medical Internet Research, and simple web searches for internet apps.
However, a current search of the most common app sites, iTunes app store and the Android app store, showed only a few apps dealing with rare diseases.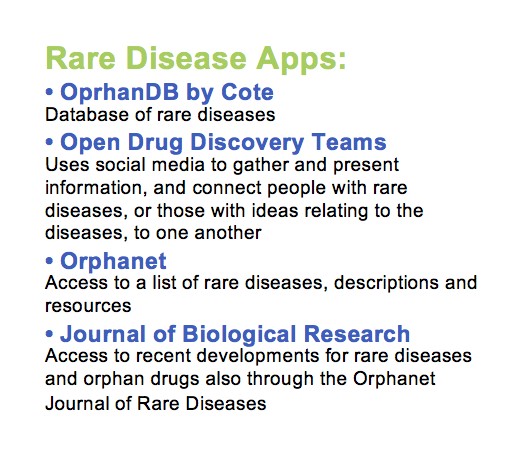 In the United States, access to online health information is already at a high level as 72 percent of all internet users looked up health information online, according to a Jan. 2013 Pew Research Center study.
In addition, 35 percent of U.S. adults went online to figure out a medical condition, and 50 percent of those followed up with a visit to the doctor.
The Martinez-Perez study also concluded 1 billion smartphones and 100 million tablets are used around the world, and these devices can be valuable tools in health care management.
Those looking for mobile health apps can find them. Here are few more easily found, but still rare, orphan disease applications:
• OprhanDB by Cote Database of rare diseases; available on Apple and Android
• Open Drug Discovery Teams Uses social media to gather and present information, and connect people with rare diseases, or those with ideas relating to the diseases, to one another; available on Apple and Android
• Orphanet Access to a list of rare diseases, descriptions and resources; available on Apple and Android
• Journal of Biological Research Access to recent developments for rare diseases and orphan drugs also through the Orphanet Journal of Rare Diseases. Available on Android
Though, not for rare disease, the MyRA app could be a model, Drake said.
Launched in March 2013, MyRA is used by patients to track symptoms and provide empirical data for rheumatoid arthritis (RA) and other autoimmune diseases.
In addition to the Martinez-Perez study, web searches for health, fitness or medical apps reveal most platforms handle tracking athletic performance or more common conditions, but there are only a few designed for rare conditions.
People do go online to find others with health conditions, but those with rare or chronic conditions are significantly more likely to do this, said the Pew study.
While these applications are valuable, Drake believes this idea of better health management through tools like the MyRA mobile app could be very useful for those neglected by the producers of the thousands of apps for the most common diseases, and those using fancy software and tracking apps for athletic performance.
"There is the glitz and glamour of general fitness and athletic training trackers, but we can produce powerful disease-specific health trackers for people in the real world," Drake said. "We should be able to give rare disease patients tools that put their health in the palm of their hands."
Notes:
More information on the Pew Research Study is available here
More on the Martinez-Perez study is available here
/wp-content/uploads/2017/01/innovenn-logo-madison-wi-1.png
0
0
Innovenn
/wp-content/uploads/2017/01/innovenn-logo-madison-wi-1.png
Innovenn
2015-01-21 13:08:15
2017-01-16 13:42:11
Rare disease apps need a boost