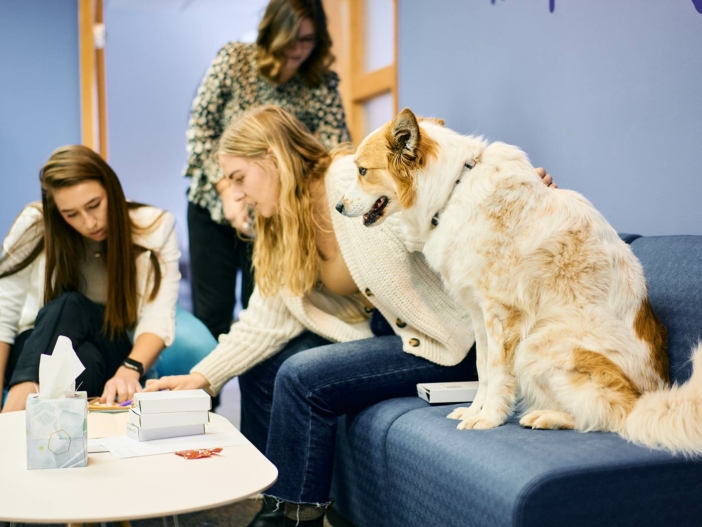 Innovenn's History
Founded in 2013, Innovenn is a 100% women-owned small business with an over 50% female workforce. Innovenn, Inc., helps our client's develop patient-centered, leading-edge, AI-enhanced, medical device software (SaMD).
At the intersection of engineering and data science, Innovenn and our collaborators take deep learning into the real world to improve human health. We leverage the latest advances in machine learning, artificial intelligence, and strong engineering foundations to guide development of software that is regulated as a medical device (SaMD).
Our team has expertise in program and technical project management, quality management, product risk analysis and mitigation, human factors testing/user insights, and regulatory strategy/submission support that enables our clients to launch disruptive health solutions. In everything, our goal is to improve health outcomes by helping clients envision innovative ways to meet patient needs.
Putting People First
Patients first by Mission
At Innovenn, our philosophy is that the most important decision we make each day is how we spend our time. We understand that time is the enemy of patients waiting for help. With this in mind, we begin product design by discovering an unmet medical need (e.g., identifying a problem to solve for patients). Then, we design products to address this need. We include patients and health care providers in the design and development process and remain focused on delivering solutions that are easy to use, have clinical benefit, and are safe. We have a sense of urgency and strive daily to meet our mission of improving lives through the development of innovative health solutions.
People First by Design
We believe that "how we treat each other" matters most. This grounding principle powers our super-effective teams, and fosters compassion, inclusion, and trust.  When you are on an Innovenn team, whether an employee, collaborator, client, or consultant, you will recognize our culture of mutual respect which enables everyone to thrive.
Prioritizing Individual Growth
Innovenn embraces the philosophy if you wear different hats, and take on "reach" assignments, you will grow individually and professionally.  Team members are encouraged to volunteer for various work streams that may not be in their job description and do something they have never done.  Often, what is accomplished from a "reach" assignment is wildly impressive.  Team members gain confidence, learn, and are part of making a difference every day.
Customers First Mindset
We perform our work knowing quality impacts decisions that are made by regulators, doctors, and patients, and this has a direct impact on health.  We strive to deliver the highest quality outputs in all development workstreams.
At Innovenn, we use the phrase "One team without corporate borders" often. This is because our teams are often comprised of complex collaborations with other organizations or consultants. We strive to ensure the goals of the team remain unified regardless of which company they represent. We avoid "us and them" mentality as this is not conducive to problem solving and moving projects forward efficiently and effectively. We leverage resources across the collaboration to achieve project goals, developing a realistic and honest overview of each individual's abilities, experience, and vulnerabilities, and we strive to ensure proper resourcing for the success of a shared goal/vision/mission.
Creative Management of Global Teams
Further, we strive to put aside egos, drive inclusivity, motivate collaboration, and inspire team members with varied backgrounds, and diverse cultural perspectives to focus on solving problems together.  We ask our leaders to balance the human and technical aspects of work for the well-being and development of both employees and organizations. Team members are asked to remember they are working with and for people who may have different values, attitudes, and feelings. We promote active listening and ask team members know that their voice and the practice of integrity, openness, and honesty are core to our values.
We offer flexible working hours and a hybrid model of remote and in- office work time. Innovenn promotes creative ways for our teams to celebrate wins and to shake off stress during the workday.  It is not uncommon to find our staff having an impromptu dance party.  For a peaceful break during the workday, we host a serenity room for team members to take some mindful time-out.
Celebrating the Now and Focusing on the Future
We have taken time to consider the values we share that define our culture. These values are celebrated on graffiti style painted mural in our lounge area, serving as a reminder of who we are.  We also applaud individual and project milestones by ringing a celebration gong and have two unique awards that are given out annually by CEO or Direct Line Manager.
One Small Step Award
Recognizes an employee for going above and beyond the expected level of contribution, resulting in superior performance to expectation.
Ripple Effect Award Recognizes an employee taking initiative in making a change to benefit the company and team. It takes but One Person, One Moment, One Conviction, to Start a Ripple of Change.
The CEO also hosts a one-on-one off-site lunch with an employee each month as another means of celebrating individual accomplishments.
In 2021, we celebrated the unique ways we responded to the pandemic that strengthened our team. When we were 100% decentralized, we started Mondays off with a team member selected motivational video, and we hosted "take a selfie" Tuesday, providing a fun way to stay connected while isolated. Wisdom Wednesdays featured team member's inspirational quotes, and Thursdays, ended with on-line team games.
We have returned to the office, appreciating the value of the bonds that grew deeper, the clarity that  sharpened our effectiveness, and our ability to adapt and  focus on our mission to innovate and impact the future of medicine.
Interesting in a career at Innovenn? Join the team!
https://innovenn.com/wp-content/uploads/2023/06/innovenn-human-factors-testing-samd-fda.jpg
1280
1920
bizzybizzy
/wp-content/uploads/2017/01/innovenn-logo-madison-wi-1.png
bizzybizzy
2023-06-19 11:22:15
2023-06-22 11:30:45
Culture at Innovenn