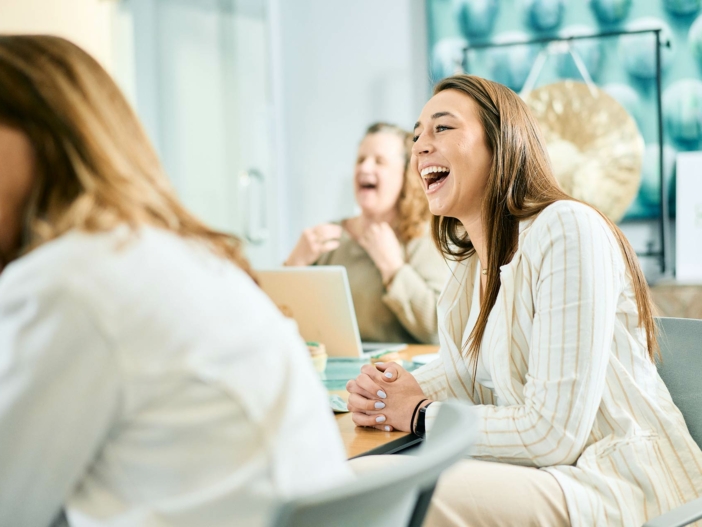 The Perks of a Career at Innovenn
History of Innovenn Benefits
When Innovenn was a start-up, we were unable to offer various benefits (other than PTO ) that might be available with larger companies. Our key benefit was being part of an exciting, growing, innovative industry, and a forward-thinking culture. The good news is that once we became profitable, our CEO made a commitment to adding new employee benefits each year. Our benefits package has grown to one that allows us to attract new hires even in the most competitive environments.
The timeline of new benefits includes:
In 2016, the company added the option for employees to contribute to a 401k program.
In 2017, we began to offer a health insurance stipend to help employees cover their individual health plans as we were not in a position to fund health insurance at that time. In addition, we added a 401k Safe Harbor plan, whereby annually the company contributes 3% of each employee's yearly compensation.
In 2018, the company instituted a book club in which the HR department provides the staff two books a year (or a list of books from which the employee can choose). Annually, we host two book club dinners, giving an audience to key take-a-ways and ideas from our reading and how it might impact the business.
In 2019, the company offered employees phantom stock options recognizing that their individual contributions are a critical part of the future growth and success of the organization. That same year, Innovenn began the bring-your-pet-to-work policy and is now one of the most pet-friendly offices you'll find. This has been especially valuable as many team members adopted pets during the statewide stay at home orders when Covid-19 shifted everyone to decentralized workplaces. While it was a benefit before the pandemic, it became even more valuable during the move back to the office three days a week; having pets at work has provided companionship, affection, and joy that eased the transition.
In 2020, the company covered costs of a mental health app for each employee to use in supporting their individual wellness needs. We also added initiatives to support our workers during our 100% decentralized period. We responded to the pandemic in unique ways that strengthened our team. Mondays started off with a team member selected motivational video, and we hosted "take a selfie" Tuesday, providing a fun way to stay connected while isolated. Wisdom Wednesdays featured team member's inspirational quotes, and Thursdays, ended with on-line team games. This was in addition to numerous opportunities to gather in a safe environment to buffer the sense of isolation that impacted many of us.
In 2021, we were excited add a new benefit to our offerings–employer group health, dental, and vision insurance benefits for full-time employees. We were also able to provide 100% employer-paid basic life insurance, and long-term and short-term disability insurance for full-time employees. In addition, we began offering flexible working hours and a hybrid model of remote and in-office time.
In 2022, we have converted space to a "serenity room," providing a peaceful break during the workday for team members to take a mindful time-out.
Building Teams That Work
Innovenn promotes creative ways for teams to celebrate wins and to shake off stress during the workday. It is not uncommon to find the staff having an impromptu dance party or working on a shared puzzle in our lounge area. The company hosts monthly team building celebrations and targeted training. Not only do we build team skills and knowledge at these meetings, but we also spend time recognizing corporate and individual milestones (e.g., employee's hire anniversary, birthdays, major life events, etc.). The CEO hosts a one-on-one off-site lunch with an employee each month as another means of celebrating individual accomplishments. We also bring in a massage therapist periodically when major milestones have been achieved to provide chair massages.
We have taken time to consider the values we share that define our culture. These values are celebrated on a graffiti style painted mural in our lounge area, serving as a reminder of who we are. We also applaud individual and project milestones through the ringing a celebration gong, and two unique awards that are given out annually by the CEO or Direct Line Manager.
One Small Step Award – Recognizes an employee for going above and beyond the expected level of contribution, resulting in superior performance to expectation.
Ripple Effect Award – Recognizes an employee taking initiative in making a change to benefit the company and team. It takes but One Person, One Moment, One Conviction, to Start a Ripple of Change.
https://innovenn.com/wp-content/uploads/2023/06/innovenn-culture-human-factors-testing-samd-fda.jpg
1280
1920
bizzybizzy
/wp-content/uploads/2017/01/innovenn-logo-madison-wi-1.png
bizzybizzy
2023-07-22 11:30:58
2023-06-22 11:39:16
The Perks of a Career at Innovenn